NON-VIOLENT COMMUNICATION TO DEAL WITH CONFLICTS AND GROUP NEEDS
To understand the needs of each group and deal with tricky situations
For teachers, facilitators and music educators
WEBINAR 1: NON VIOLENT COMMUNICATION TO DEAL WITH CONFLICTS AND GROUP NEEDS


6th February 2021 at 4.00 pm UK time
WHAT DO YOU KNOW ABOUT NON-VIOLENT COMMUNICATION?
Nonviolent communication is not only a new way of understanding the communication we establish with people but also a new way of understanding relationships.
It's basically a set of principles that invite us to look at the situations, not from the "who is right? who is wrong?" way. Instead, we will look at the interactions from the "what are our needs?" point of view, because this perspective can be much healthier and more constructive, than the one based on guilt, shame, fear and punishment. 
In this webinar, I will show you how to apply the principles of Non-Violent Communication, which will help you to create conditions to fulfil your groups' needs. I will also share some different ways of dealing with conflicts that might show up during your sessions and classes. We will have a look at the culture we can create through the activities we propose, and notice how, depending on the way we deal with students and participants, they can feel more secure and safe even when experiencing conflicts.
WHY SHOULD YOU ATTEND THIS WEBINAR?
to expand the way you deal with tense situations and conflicts in groups.
to understand how to create an atmosphere where people can deal with their conflicts.
to consider the human needs most of us have and include little tricks to fulfil these needs during the sessions or in classes you teach, for people to feel happier and more included.
to lead groups in both an authentic and empathic way, offering them your own style and also opening space for them to feel considered and welcomed


WHY SHOULD YOU ATTEND THIS WEBINAR?
If you want to learn different ways of stimulating the musical and social aspect of the groups you lead
to understand how music can become a powerful resource to build connexion between students and participants
to develop your own musicality while you lead your sessions
to offer the groups you lead an experience that is both fun and deep, light and meaningful way of making music together.


This webinar is connected to a second webinar
"WEBINAR 2: CIRCLE MUSIC - TO CONNECT THROUGH MUSIC
27th February 2021 at 2.00 pm UK TIME
It's necessary to participate in Pedro's first Webinar to attend the 2nd one.
Can't attend the webinar on the planned date? Don't worry!


You can watch the webinar whenever you want, even at night if your neighbours don't complain! From the Monday after the webinar you will find it available right here on MUSIC TREE online school on Teachable.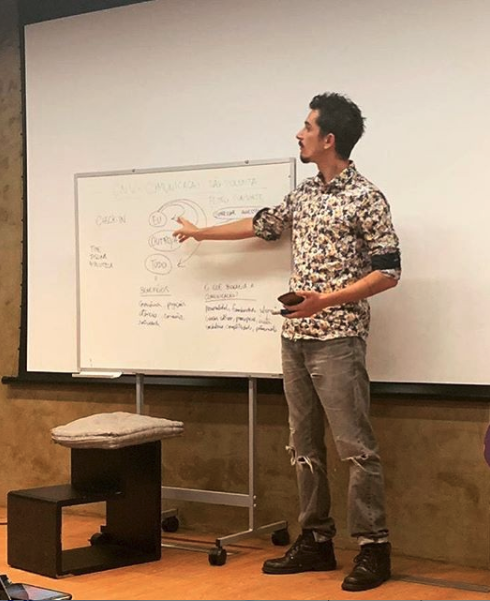 I've been facilitating groups since I was 14, and in the last 6 years my skills were deeply enriched by the touch of Non-Violent Communication. I facilitated workshops and courses in 15 different countries around the world, from summer camps, to huge companies; from poor communities, to rich organisations. 
I was raised in a family of musicians and when I was 3 I started playing the drums. Since then, many things have happened in my musical life: learned body percussion with Barbatuques, became a teacher of the International Body Music Festival (Keith Terry), became a member of STOMP, created the international retreats of Musica do Circulo in Brazil..
WHAT WILL WE DO IN THE WEBINAR?


- 2 hours of course (recorded and available at any time)
- Ebook with activities description
- Certificate of participation
HOW CAN YOU ACCESS THE WEBINARS AND HOW MUCH DO THEY COST?
- each webinar costs £33
- you can purchase Pedro's workshops for £66
- you can access the whole package (4 webinars) for only £107 instead of £132 HERE or below:
1. conflicts in psychology
2. Body music strategies and activities
3-4.Non-Violent Communication to deal with conflicts and group needs
All webinars will be recorded and will be available on Music Tree online school on Teachable.
You will also receive short EBOOKs where you can continue to study and review the most important steps of the activities and topics that we will learn together.
With these webinars, you will enrich your knowledge with ideas, strategies and suggestions to better manage the conflicts and difficult situations that can arise during the facilitation of groups. You will be able to experience new music and movement activities for children, teens and adults to foster communication and inclusion.
THE DATES OF THE WEBINARS


All webinars will be at 2.00pm UK time


12th December 2020 - Flavia Capoano: The conflict in psychology, to understand how to manage complex situations in your daily life, at school and with your children.
09th January 2021 - Tiziana Pozzo: body music strategies and activities to foster communication, cooperation and inclusion.
30th January 2021 - Pedro Consorte: Non-Violent Communication to deal with conflicts and group needs
27th February 2021 - Pedro Consorte: Circle Music - to connect through music (it is necessary to attend Pedro's first webinar to participate to the second).
Still have doubts? I'll try to answer you below otherwise you can write me at [email protected]:
I cannot attend the webinar on its planned day. Can I access it later?
Yes, you can watch the webinar whenever you want, even at night if your neighbours don't complain :) My course does not include live interactions so you can subscribe and you will find it available from Monday 11th January right here on Teachable.
I'm not a music teacher, is this course suitable for me too?
Of course! We all have body music in our blood! Furthermore, to use it to lead groups we don't have to reach extraordinary technical levels but rather be able to understand all the steps to build an activity that works and entertains our students. And you already know how to do it very well, right?
I would like to use body music with all the groups I work with, from childhood to adults. Will I find suggestions and ideas in this course to do it?
Oh yes! This is just the right course! I have been working for years with all age groups and I have discovered some tricks to use my activities with all of them, without wasting too much time and energy replanning.
I have never attended an online course and I am a little anxious about having to understand all the technical things of the internet.
I understand, I was anxious too at the beginning. Don't worry, my online school here on the Teachable is really simple and intuitive. In addition, you will always find me via email for any clarification or doubt.
I don't feel very musical but I don't want to take this possibility away from my students. Can I participate?
Yes, sure! The activities are designed according to the step-by-step approach, which is the same that I adopt during lessons with children. I have taught body music to a lot of people, of different ages and backgrounds, so I will slowly accompany you to discover your musicality and coordination.
I am already a professional in body music, what will I learn in this course?
Well, to start you will take a leap into my personal approach to body percussion, which I imagine is different from yours. I developed it working with people from many different countries and backgrounds, working also with children and people with special needs. I mixed it with improv theatre, Gordon's Music Learning Theory, Soundpainting and my educational research carried out with University College London. I will help you find the theoretical foundations of the activities and I will teach you songs from different parts of the world, with original exercises and activities experienced over the years.